X
Looks like you are a new visitor to this site. Hello!
Welcome to Hope For Film! Come participate in the discussion, and I encourage you to enter your email address in the sidebar and subscribe. It's free! And easy! If you have any suggestions on how to improve this website or suggestions for topics please don't hesitate to write in to any of the blogs.
You can also follow me on Twitter or Facebook.
(If you keep getting this message, you probably have cookies turned off.)
Television's impressive artistic and commercial success is not a solely American phenomenon – it is not even an English language phenomenon. The case of the Danish series Borgen (2010-2013) is exemplary. Borgen brought together on average a 50% share in its home market and was shown all over the world to great acclaim. Much like The West Wing, it worked as a reminder that sincere idealism can still be part of politics, while at the same time giving a pretty nuanced idea of how politics work. Danish TV drama (shows like The Killing/Forbrydelsen of 2007-2012, The Bridge/Bron from 2010-2013, and most recently The Legacy/Arvingerne and soon-to-be-released 1864) began its revival about fifteen years ago – at the same time as its domestic film industry, and with the fiction department of the public channel DR as its driving force. [...]
Yup.  I will tell some great tales, read a few passages, answer a lot of questions, and distribute some free gifts.  All this and more this Friday evening.  At Book Soup. 7p.  8818 Sunset Blvd.  See you there!
I have great HOPE for what is happening right now in the film business.  I recently wrote about it for The Hollywood Reporter. Check it out here.
It's Buster's birthday.  Celebrate it with this: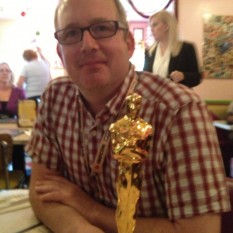 Bet you didn't know I was responsible for this summer's biggest box office hit. Yup. Guardians Of The Galaxy: I am responsible for that.
And if you were in Zurich for their film festival, you might have gotten some excellent advice on how to make award winning films.  It may have seemed like Nicholas Chartier was giving the speech, but […]
Did you miss the excerpt of my book "Hope For Film" that Women And Hollywood ran the other week? It's not too late.
It is so easy to think we've moved away from the TV and to mobile and online, but..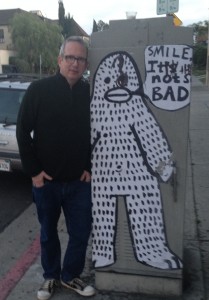 This Wednesday, Sept 17th at 1P ET I will be doing a Reddit AMA and I hope you can join me.  Don't hold back. Ask me anything.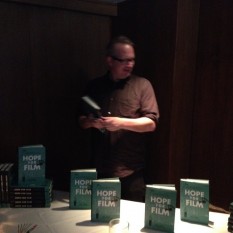 In reviewing my book, Nick DeMartino captures a great deal of what I am feeling these days. I think we can move things forward and build it better together.  Nick spots how my love of cinema drew us forward and then how that same love drew me away from a focus on project producing.
"At a certain point, living an […]